Depot-Charging
Customized HPC solutions for bus and truck-charging
The Public Transport Company BLT Baselland Transport AG has put a special bus charging system into operation at its Oberwil location, which is made up of separated power units and very small control units that are attached to the hall ceiling.
The power unit of the corretto&charge can be equipped with up to 24 modules each with 16kW charging power (up to 384kW) and currently supply two control units, called bricco&charge, with up to 192kW charging power each. The first system of this type at BLT consists of four corretto&charge, each with 192kW charging power, which is delivered to the vehicles via eight bricco&charge, each with 96kW.
This type of installation saves the BLT valuable space on the standing and road surfaces of the depot small size, wall or floor mounting is also possible.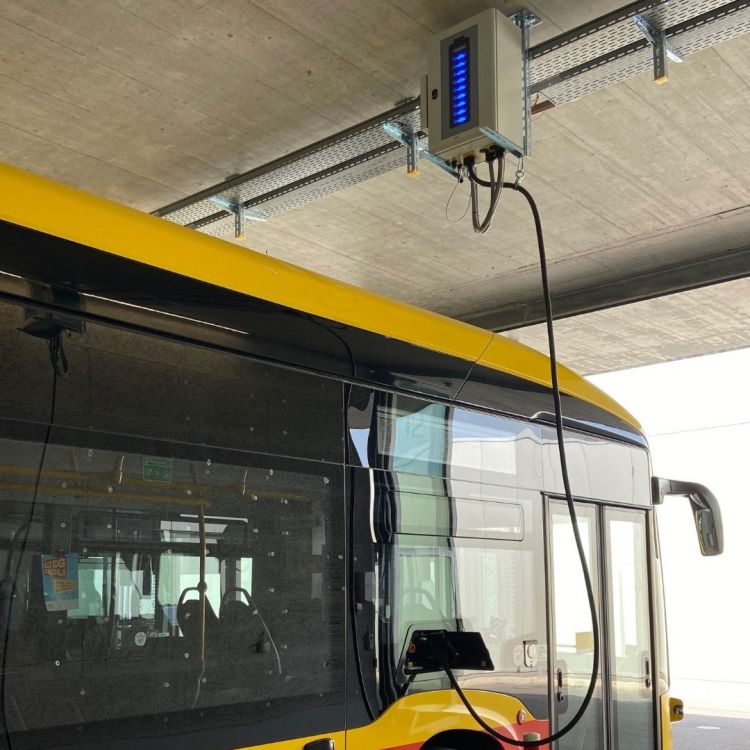 BLT charging outlet bricco&charge from EVTEC AG: The charge level display visualizes SOC or operating states in customer-specific adjustable RGB colors.
The battery status is visualized in 10 blocks (10% per line) in order to simply but clearly visualize the charge status of the e-bus. At the present time, the system is designed in such a way that eight Mercedes-Benz eCitaro with solid-state batteries can each be charged with up to 96kW charging power. Unlike other DC systems, the system does not switch off, but also ensures maintenance power after the battery is fully charged.
Charging stations for trucks and electric buses
The installed Bricco-Corretto-system offers the more flexible installation of an HPC station for 2 vehicles each with 480A charging current (2x192kW, 384kW) with a very compact control unit at the parking lot (ceiling, wall and floor installation/pedestal possible) combined with a flexible power cabinet .